R&D
Production Line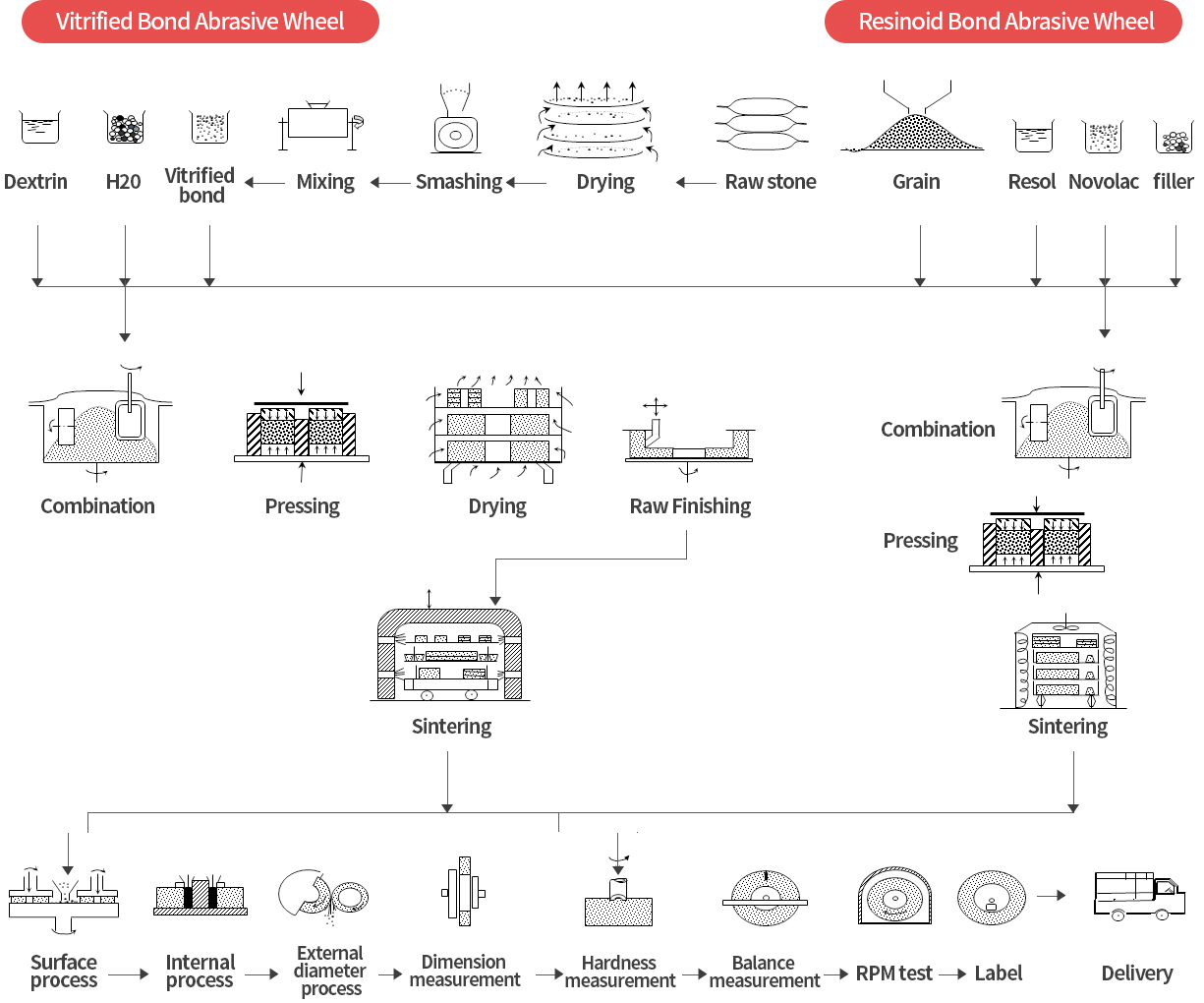 Marking of Grinding wheels
ⓐ Abrasives wheels manufactured according to the manufacturing method
A = Alundum
WA = White Alundum
GC = Green Carborundum
SG = ∝-Al2O3 manufactured by the sol-gel method
PA = Pink Alundum
SA = Single Crystaline Alundum
C = Carborundum
ⓑ Represents a particle size of 60 mesh (250㎛)
Assembly = 10 ~ 24mesh
Fine grain = 80 ~ 220mesh
Neutrality = 30 ~ 60mesh
Microfine = 240 ~ 800mesh
ⓒ Bonding degree of grinding wheels
E, F, G = the most soft
I, M, N, O = Medium
T, U, V, W, X, Y, Z = very hard
H, I, J, K = soft
P, Q, R, S = hard
ⓓ Organization of grinding wheel
1
2
3
4
5
6
7
8
9
10
11
12
13
14
Compactness
Normal
Sloppy
ⓔ Type of bond
V = Vitrified
B = Resinoid
Foundation of Grinding wheels
Components of grinding wheels
1. Abrasive :

The role of cutting the workpiece with the cutting edge.

2. Binder :

The role of binding and protecting the abrasive grains.

3. Pore :

It is between the abrasive grain and the binder, and the role to escape the cutting powder.

[ The location of the elements that make up the grinding wheels ]
Type and characteristics of grain
Abrasive
Abrasive is an artificial synthetic material that acts as a cutting edge in a grinding wheel.
Type
Color
Mark
Name
Manufacturing method
Usage
Ceramic abrasive (AI203)
 
Blue (opaque)
SS
CUBITRON
Ceramic inorganic material produced through the SOL-GEL process (process)
Grinding of difficult-to-cut materials such as soft, high carbon steel and stainless steel
 
White (opaque)
SG
HTB
Silicon carbide (SiC)
black
C
Black Silicon Carbide
Crystallization of silica and carbon material by crystallization in an electric resistance furnace
Casting, non-metal, abrasive cloth, refractory, crystal, stone
Green
GC
Green Silicon Carbide
It is made by crystallizing a carbon material having a higher purity than the raw material by the same method
Cemented carbide, refractory
Types and characteristics of abrasives
Type
Color
Mark
Name
Manufacturing method
Usage
Molten alumina (Al2O3)
Brown
A
Regular Aluminium Oxide
Brown crystals pulverized by melting bauxite in an electric furnace
General steel, grinding cloth, optical grinding, semiconductor grinding, refractory, etc.
White
WA
White Aluminium Oxide
Crystal by melting and pulverizing alumina by the Basya method
Synthetic steel, abrasive paper, special refractory, etc.
Light gray
HA
Single crystal Aluminium Oxide
An incoat made by adding and dissolving sulfur, etc. to an alumina compound is submerged in water and separated by particles
Light grinding tool steel of alloy steel, special steel
MA
32A
SA
Pink
PA
Pink Aluminium Oxide
Same as WA product, but melted and crystallized by adding a little Cr203 to give it properties
Internal grinding and gear grinding of general heat treated steel
RA
Brown
TA
Collection of grains (集結晶砥粒)
It is the same as the manufacturing method of brown molten alumina grinding material, but makes the crystal large by making a difference in the cooling speed.
Slab Billet Heavy Duty grinding
Gray
Z
Zirconia Aluminium Oxide
Alumina and zirconia are mixed and pulverized by melt cooling under special conditions
Super heavy grinding of steel, casting, and steel